See What People Think
thank you again ❤
"i just picked up my order today at my local post office. it is a anniversary present for my husband which I was ordering quite a time ahead to be sure that I will receive it in time. the shipping was really fast and i'm absolutely happy about the product. it looks amazing and with the packaging it is a really great gift."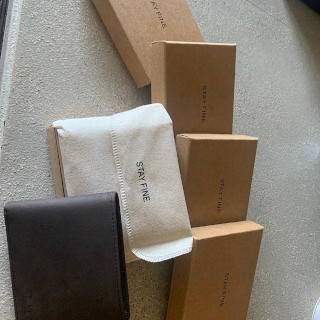 Absolutely beautiful
"Absolutely beautiful products, packaged very nicely. We bought 5 wallets for our groomsmen, and each wallet is pristine! Highly suggest this store!"
I am forever grateful!
"This is one of the best products I've ever ordered. The customer service was exceptional from the very first day I ordered, I entered the wrong address and I was quickly able to get this changed with the amazing customer service. I've had constant contact with any questions or concerns. I will forever order from Stay Fine."

Customer Reviews
Great Product
Wallet is fantastic, engraving was exactly what I wanted
Frequently Asked Questions
Q:
Where does the wallet ship from and what's the processing time?
We ship from Redding, California and ship within 1-2 business days after receiving the order.
Q:
Do you check customer's typo before engraving?
Sorry! But we are not responsible for customer's typo. We also have had many customers purposely want typo with some creative words. It's really the customer's responsibility to make sure the wordings are accurate and then place an order.
Q:
Can I change my shipping address?
Sorry! Due to the amount of the orders we have, it's very unlikely that we can change the shipping address for your order. So please enter the correct shipping address when placing the order.
Q:
What type of leather is the wallet made of?
All of our wallets are made with premium top grain Argentinian leather that has a pleasant smell. It softens naturally with use and ages beautifully with time.
Q:
What's the warranty of the wallet?
For 12 months, we cover any factory defects as a result from the manufacturing process of the product.